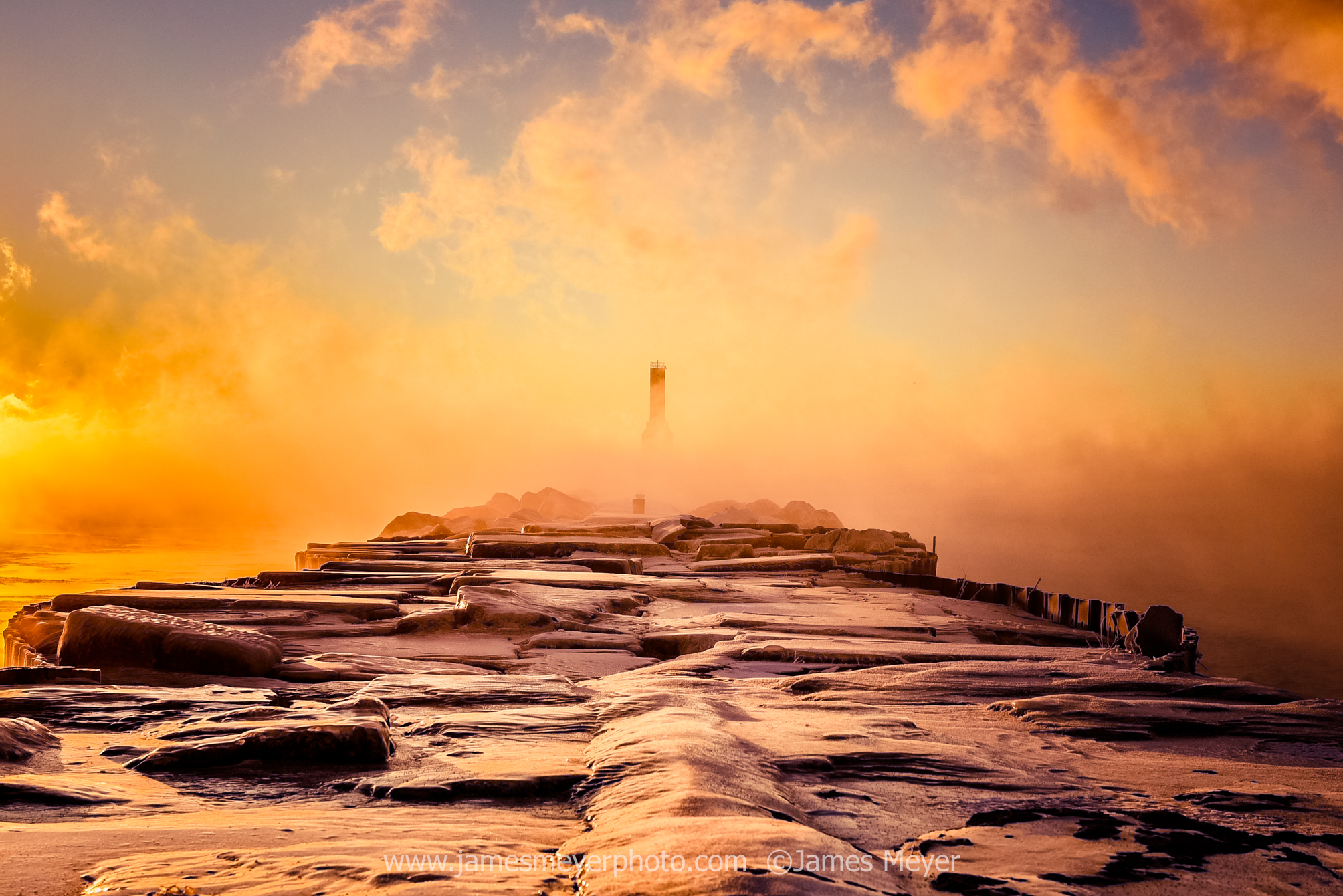 Wow!  Arctic Steam Fog!
That about sums up the sunrise on the Port Washington, WI. breakwater this morning.  The cold, arctic air pushed the temperatures well below zero.  At those temperatures the "steam fog" rising from the lake is really thick.  As easy as it might be to enjoy from the comfort of a warm vehicle, nothing, in my opinion, compares to the experience of being "out there in the elements".
The breakwater is composed of several segments.  The first roughly 2/3rd is divided down the middle with a concrete wall.  On either side of the wall is a steel cable anchored to the wall. The purpose of the cable is as a hand-hold.  The remaining 1/3 out to the lighthouse is very narrow. I've not measured it but I would guess it to be roughly 4 or maybe 5 feet wide.  What makes it somewhat difficult, is a series of steel pillars projecting up about 8 inches from the surface right down the middle of this segment.  You have to step over or around each one and they are set about every 3 feet.
On a frozen morning like this, I would never attempt to walk all the way out to the lighthouse.  Why?  I haven't mentioned yet, the entire length of the walkway is covered in several inches of snow covered ice.  Just walking the first 2/3rd is tough.  I hold the steel cable in one hand at all times.  In several areas the edge of the walkway is only about a foot wide.  To slip at one of these points would be tragic.  With 35 degree water temperatures and no sure handhold to escape the freezing waters I'm certain death would be the most likely outcome to anyone falling into Lake Michigan.
For these shots I went about 20 feet further than the steel cable allowed in a wider area of the breakwater.  There's a small area that one can duck out of the wind and set up their camera right before the narrow section begins.  This area has nothing to hold onto and on this particular morning I slid about 5 feet on the ice covered surface at one point.  Still, nothing compares to being out on these types of elements taking pictures and seeing sunrises that others simply can't or won't.
I hope you enjoy these images.  If you're interested prints are available. Feel free to contact me at [email protected] or, use the links at the bottom of the page to access my online gallery. Prints come in a variety of sizes, with or without frames at very reasonable prices.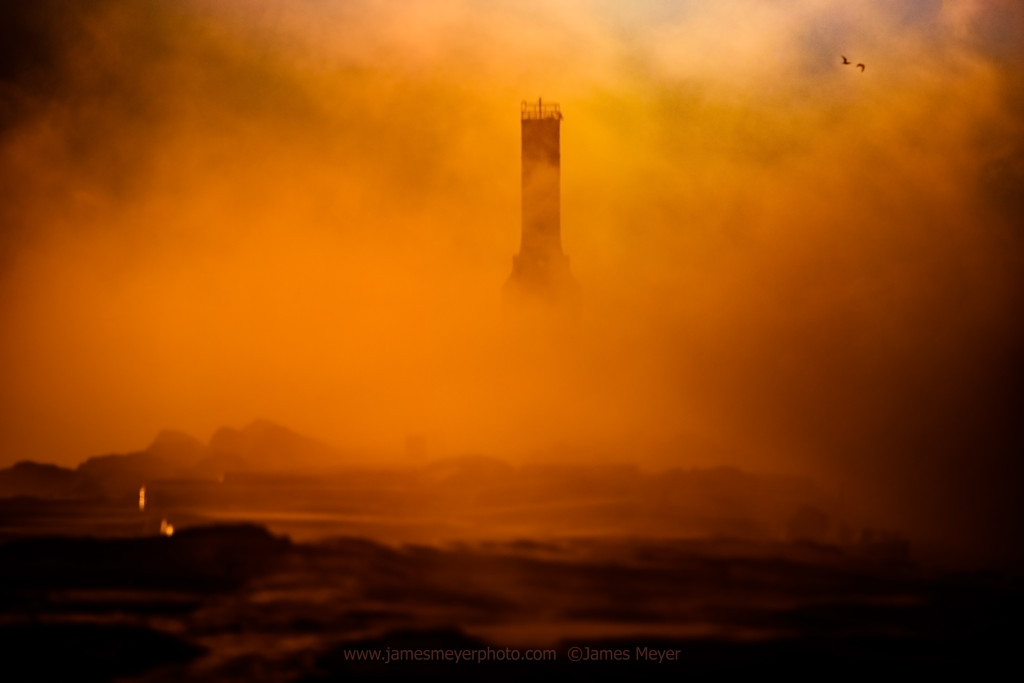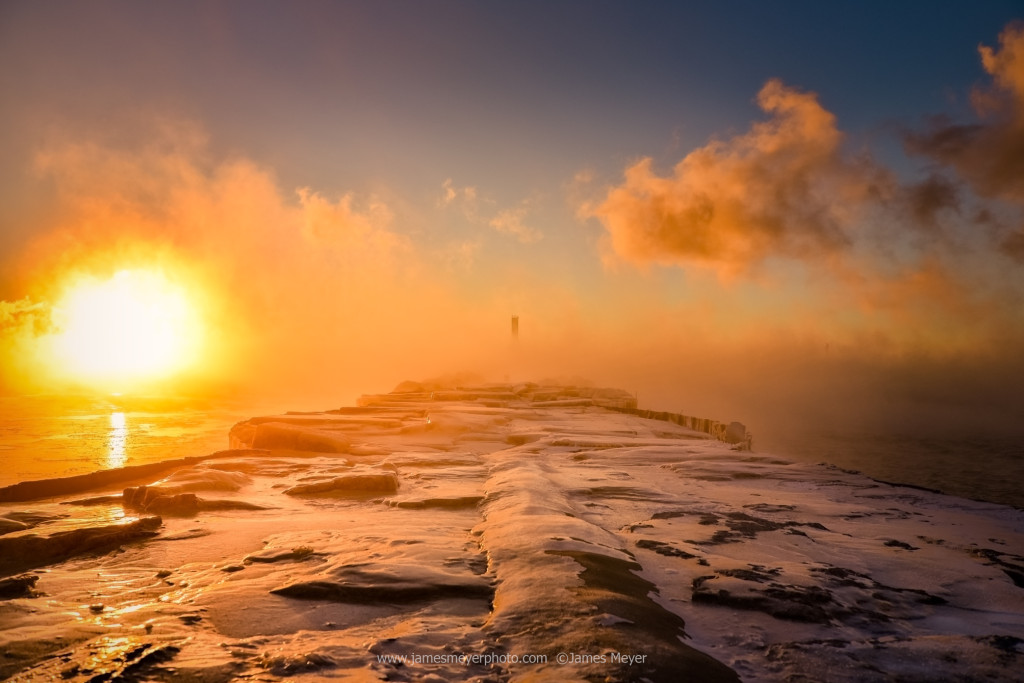 Shop Prints