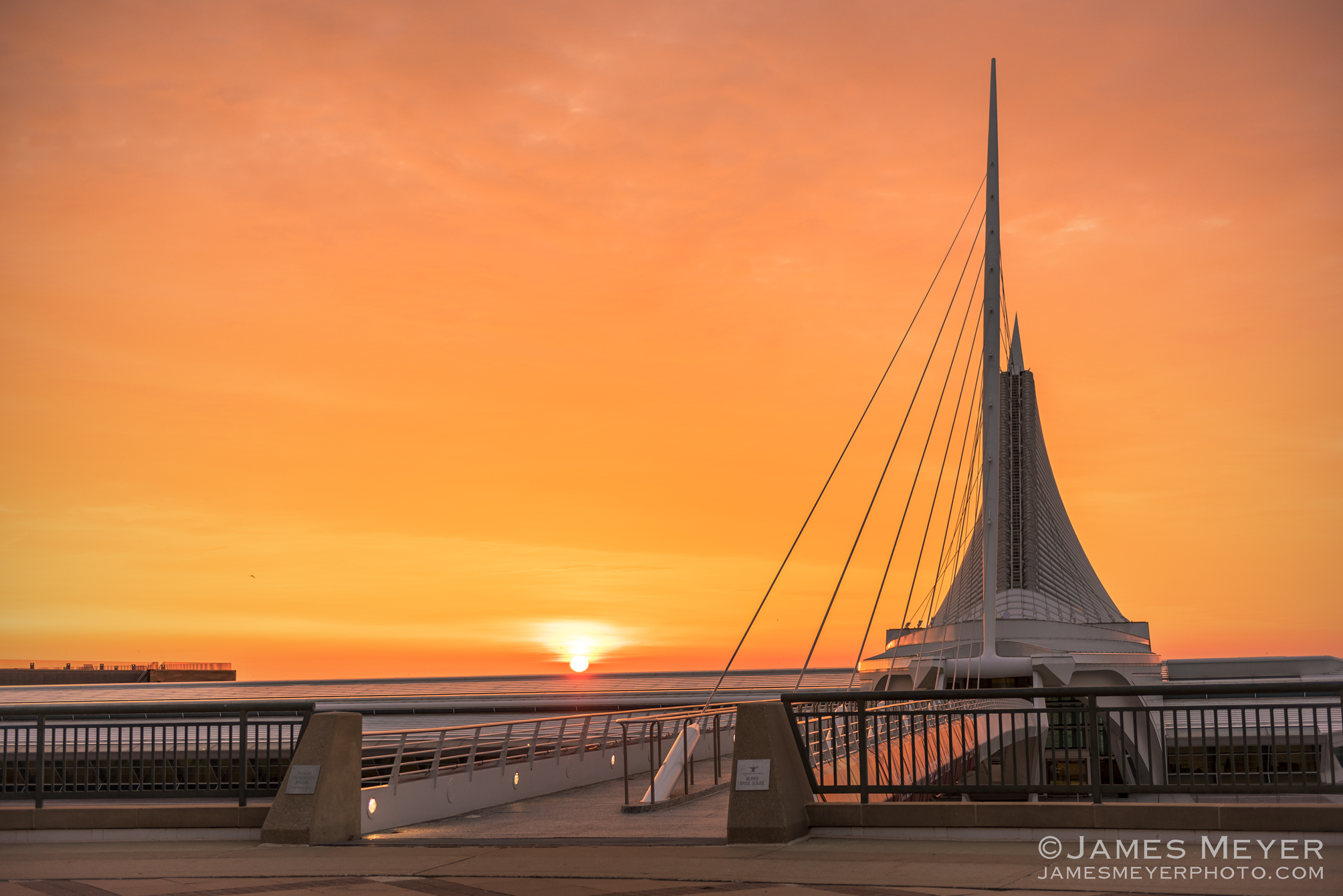 Sunrise in downtown Milwaukee, WI
This was supposed to be a relaxing start to the weekend.  That was the plan.  Unfortunately, I got a late start and a late start to photograph the sunrise equals failure in many cases.  Driving south down I-43 towards downtown Milwaukee I kept looking to my left, east towards the lake and the rising sun.  With each passing moment the sky got a little brighter.  I had checked my The Photographer's Ephemeris (TPE) app and prior to leaving home and knew the direction of the sunrise and had a few locations downtown I wanted to try.  That was before the late start.  As I rushed downtown I knew there was no time for experimenting.  My arrival to the lakefront confirmed exactly that.  The sun had already broken the horizon.  No time to think, just park, pull out the camera and shoot.  This is that shot.
After this first shot I decided to take a moment and attach my camera to a tripod.  You know it's odd.  Years ago I would never shoot with a tripod.  In my search for clarity in my photos, and the fact that a tripod helps with that, I've gone the opposite direction and almost never shoot without using a tripod.  Shot two was after I clicked the camera on the Manfroto 055. You can see, the sun has popped a little higher into the sky and I was several steps closer to the Calatrava.
At this point I needed to get closer to the railings to take a couple more shots before the sun got too high and the fantastic orange sky gave way to white light.
This shot was shot at a f/2.8 aperature. I focused on the first diagonal section a few feet ahead of the camera
This was the last shot of the morning.
All in all I think the "shoot" lasted roughly 10 minutes with 6 different shots.  Exactly what sunrise photography is.
Comments
comments