Portrait, Family and engagement photo sessions by James Meyer Photography.
When it's time to create lasting memories, trust your portrait or engagement photo session to me. Located in beautiful Port Washington, WI I serve all of SE Wisconsin. Photo shoots are booked in advance. While I typically schedule a week out, in some cases next day and same day sessions are available.
To me, photography isn't taking a picture, it's capturing a moment to treasure. It's creating a pathway to a memory.  It's realizing the future will come and memories and images of today will mean even more.  Capturing images of the now shape how you'll see all that you love today… tomorrow.  Should you have any photographic needs, I would love to share ideas and create unique treasures and family keepsakes.  It would be my honor to work with you and your family.
Because I control my lighting, even outdoors, photo shoots can be scheduled for any time of the day.

Sessions generally last 1-2 hours and take place at your location or public space. I want everyone comfortable in the environment with the perfect outfit on or available for your portraits.  I'll bring the lighting, backdrops and everything that's needed to your location.
Single – a typical photo session will consist of 5-10 different poses.
Couples & Engagement –  couple shoots will generally consist of 10-15 different poses.
Family – family shoots are challenging.  Generally this involves less poses but more shots trying to get that perfect shot everyone is happy with.
Tips:
Is there a location that has special meaning?  Let me know. We can schedule a certain time of day to maximize the thought and feeling of your finished photos.
Special items that are near and dear to your child.  Bring them along.  They will make your child more comfortable and relaxed and we may use them in the photos.
Colors – think neutral.  For family photos try to wear clothing that is similar in tone.  For kids and couples, stick to solid prints.  Patterns take away from the subject, you.  White clothing, unless for a specific reason, should be avoided.  Also, think about the location we will be shooting in.  If for example, you want a portrait with a fire or fireplace in the background, probably want to stay away from pastel colored clothing.  Think of clothing as an important part to setting the mood and the tone of the image.
All portraits will be tastefully and professionally retouched by hand.  I do not use "filters". What I will do is I add layers of color, brighten eyes, remove blemishes, reduce double chins, even skin tones, soften wrinkles and so on.  I can "help" what god gave you.  So, if you look like Bert from Sesame Street don't expect you'll look like Burt Reynolds when I'm done.

FULL SESSIONS  |  SINGLE, COUPLES & FAMILY
Session Fee $250  |  Includes 25ish digital files
MINI SESSIONS  |  SINGLE & COUPLE
Session Fee $125  |  Includes 10ish digital files
SPORTS
Session Fee $250  |  Includes 25-40 digital files
A deposit of 1/2 the session fee is due at time of booking.  The Session Fee is the only fee you pay unless and until you order additional prints or products. You are paying for my professional equipment, time to travel to the photo shoot location, set up, take the photos, brighten eyes, soften wrinkles, remove blemishes, reduce double chins, even skin tones and generally make high quality images of you, and your family.
Prints

You may purchase prints of your images directly from me.  I work with the highest quality printers to ensure superior results.  Your print options include all qualities of papers including metallic paper by Kodak or Fuji, guaranteed for 100 years; or canvas, metal, acrylic, wood, and photo books. Print pricing depends upon the size and media used.  Please see the price list below for pricing (subject to change without notice).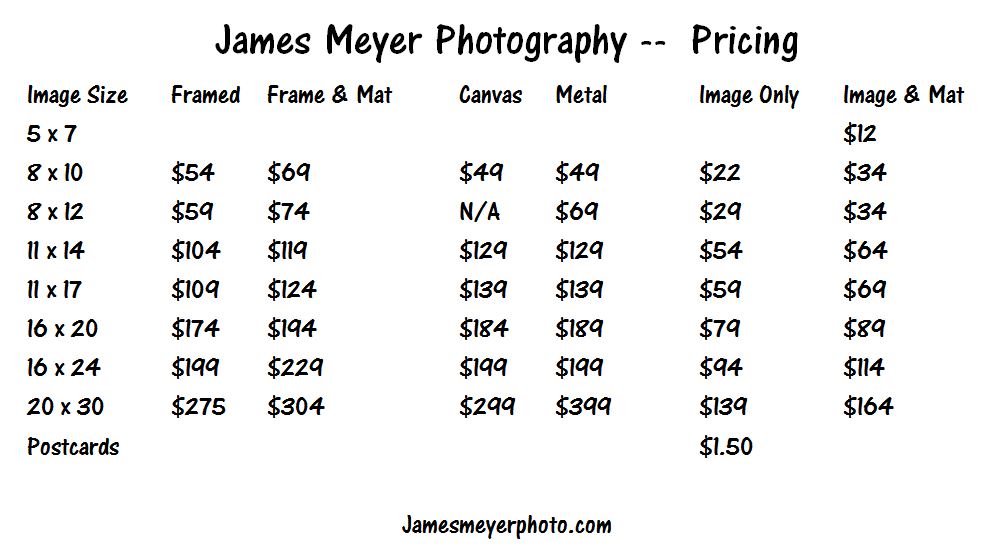 Book Now
Give me a call or text to book your shoot at 414-687-7018.  If you prefer, email jamesmeyerphoto@gmail.com
Sample Photos